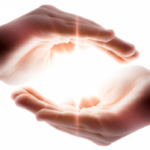 What is Reiki Usui?
Reiki is a natural well-being and healing practice, developed in Japan by Mikao Usui. The word Reiki is made of two Japanese words – Rei which means "God's Wisdom or the Higher Power" and Ki which is "life force energy". So Reiki is actually "The spiritually guided life force energy."
A Reiki session feels like a wonderful glowing radiance flowing through and around you. Reiki treats the whole person including body, emotions, mind and spirit creating many beneficial effects that include relaxation and feelings of peace, security and wellbeing. It is based on the idea that all living things have a special energy flowing through them called life energy. When your life energy is high, you'll feel strong and confident, be more relaxed and centred and less likely to get sick. When it is low, you'll often feel tired, be more easily affected by stress and be less resistant to illness.
It is administered by "laying on hands". The Reiki therapist channels energy to activate the natural healing processes of the receiver's physical body and subtle bodies.
Reiki also could be used as a complementary therapy with all other medical or therapeutic techniques to relieve side effects and promote recovery.
Reiki is spiritual in nature, but it is not a religion. While Reiki is not a religion, it is still important to live and act in a way that promotes harmony with others. Mikao Usui, the founder of the Reiki Usui system, recommended that one practice certain simple ethical ideals to promote peace and harmony, which are nearly universal across all cultures.
During a meditation several years after developing Reiki, Mikao Usui decided to add the Reiki Ideals to the practice of Reiki. The Ideals came in part from the five principles of the Meiji emperor of Japan whom Mikao Usui admired. The Ideals were developed to add spiritual balance to Usui Reiki. Their purpose is to help people realize that healing the spirit by consciously deciding to improve oneself is a necessary part of the Reiki healing experience. In order for the Reiki healing energies to have lasting results, the client must accept responsibility for her or his healing and take an active part in it. Therefore, the Usui system of Reiki is more than the use of the Reiki energy. It must also include an active commitment to improve oneself in order for it to be a complete system. The ideals are both guidelines for living a gracious life and virtues worthy of practice for their inherent value.

The secret art of inviting happiness
The miraculous medicine of all diseases
Just for today, do not anger
Do not worry and be filled with gratitude
Devote yourself to your work. Be kind to people.
Every morning and evening, join your hands in prayer.
Pray these words to your heart
and chant these words with your mouth
Usui Reiki 
The founder,
Usui Mikao
Reiki may help you with
Cleanse the body of toxins
Strengthen the immune system
Support the body's natural ability to heal itself
Balance the organs and glands and their  functions
Treat symptoms and causes of illness
Relieve pain
Vitalise body, mind and spirit
Enhance meditation
Re-establish mental well-being
Promote creativity
Help a state of total relaxation
It adjusts according to the needs of the recipient
Enhance personal awareness and strengthens intuition
Click on the link below If you like to book. 
If you need more information you can contact me directly
Maimouna LY   / Tel. UK:  +44 7751 143 584, WhatsApp/Telegram +33 6 18 99 03 39, naomhaom@gmail.com
Useful Information
I am a Reiki Master Practitioner from the traditional Reiki's lineage.
Duration & Fees
30min £35
45min £45
1 hour £55
Cancel or Reschedule
Kindly provide 24-hour notice if you need to cancel or reschedule your appointment.
Opening hours (London Time)
Monday, Thursday: 09:00am to 11:00pm (last appointment)
Wednesday: 10:00am to 8:00pm (last appointment)
Friday, Saturday: 11:00am to 5:00pm (last appointment)
Distance healing
All therapies I offer could be done by distance. The healing energy is sent across time and space to the receiver with his consent. This type of healing is equally effective as an in person healing because in alternative energy healing and holistic medicine therapies, we are working with the physical, emotional and mental aspects of an individual by accessing the individual's energy body. The energy body can be accessed easily from anywhere and at any time and does not require you to be physically present with the practitioner.
Phone, Online, Skype… We will discuss together the best way also regarding your location.

Disclaimer
Energetic healing practices are spiritual in nature. They do not interfere with any medical treatments a client may be following under a doctor's care. In no way does energetic healing work replace such medical treatments. Energetic healing treatments are in no way intended to take the place of a doctor's care. Energetic healing treatments must be seen as a complementary aid to a client's physical and mental well-being. I do not diagnose or treat injuries or psychological or physical illness, nor do I prescribe any medications or make recommendations about prescriptions or other controlled substances. I am not practicing as physician or doctor in doing spiritual healing. The services I provide are not licensed. They are not required to have, nor do they hold, a state license. Information about the nature of the services I provide are indicated on the website.