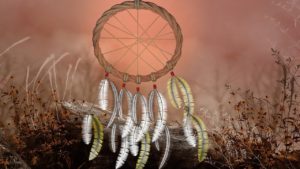 Shamanic healing is an ancient practice primarily created by indigenous peoples from all over the world. The practitioner acts as an intermediary by merging with the spirit realm and helping spirits channel energies and wisdom to help the receiver on this dimension.
Spirits of Nature, Angelic beings, Ancestors, Power animal spirits and other beings of light are ubiquitous helpers.
There are different categories within shamanic healing: Lack of power in the energy body, Imbalance in the energy body, Intrusion into the energy body, or Loss of power or soul from the energy body. Please keep in mind that, as this is a worldly practice, specific customs to restore the category may vary as every practitioner is unique, but there are a few elements that generally remain the same.
What Typically Happens In A Shamanic Healing Session?
The first thing that will happen is an open discussion between the receiver and the practitioner. It may be about how their soul is feeling at the present moment to understand their needs in a respectable, non-judgmental space. Then the energetic work starts. The receiver lies on a table wearing comfortable clothing. The practitioner will assess their various energy centres to balance the receiver's energy in the physical and subtle bodies and heal the soul. During the session, the practitioner connects with his spirits guides and travels through different worlds in search of wisdom and healing for the receiver. Once the energetic work ends, the practitioner and the receiver will discuss what was experienced by each other. The practitioner will give messages from the spirit realm and what the receiver can implement differently in his or her life. 
Click on the link below If you like to book. 
If you need more information you can contact me directly
Maimouna LY   /   Tel. UK: +44 7751 143 584,  Telegram/ WhatsApp: +33 6 18 99 03 39, naomhaom@gmail.com
Useful Information
Therapy session duration
A therapy session usually lasts about one hour to one and a half hours, please advise before the session if you need to leave before a certain hour.
Fees
£65
Cancel or Reschedule
Kindly provide 24-hour notice if you need to cancel or reschedule your appointment.
Location
I work from home where I have a dedicated healing room offering a relaxing space.
Edinburgh EH8. I offer also distance healing therapies. I could be mobile, only for those who have mobility condition.
Opening hours (London Time)
Monday, Thursday: 09:00am to 11:00pm (last appointment)
Wednesday: 10:00am to 8:00pm (last appointment)
Friday, Saturday: 11:00am to 5:00pm (last appointment)
Distance healing
All therapies I offer could be done by distance. The healing energy is sent across time and space to the receiver with his consent. This type of healing is equally effective as an in person healing because in alternative energy healing and holistic medicine therapies, we are working with the physical, emotional and mental aspects of an individual by accessing the individual's energy body. The energy body can be accessed easily from anywhere and at any time and does not require you to be physically present with the practitioner.
Phone, Online, Skype. We will discuss together the best way also regarding your location.
Disclaimer
Energetic healing practices are spiritual in nature. They do not interfere with any medical treatments a client may be following under a doctor's care. In no way does energetic healing work replace such medical treatments. Energetic healing treatments are in no way intended to take the place of a doctor's care. Energetic healing treatments must be seen as a complementary aid to a client's physical and mental well-being. I do not diagnose or treat injuries or psychological or physical illness, nor do I prescribe any medications or make recommendations about prescriptions or other controlled substances. I am not practicing as physician or doctor in doing spiritual healing. The services I provide are not licensed. They are not required to have, nor do they hold, a state license. Information about the nature of the services I provide are indicated on the website.