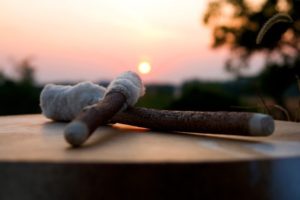 Everything in the universe is vibration, our thoughts are vibrations. We have the power to keep our thoughts in a positive level to raise our vibrations and reach higher dimensions of consciousness and being closer to the Divine Source.  Emotions such as fear, grievance vibrate at a very low frequency, while love, joy, and gratitude vibrate at a much higher level. In Naomha OM Circles we work on keeping our positive vibrations by meditating, creating, singing, dancing, sharing, healing, connecting to the elementals, talking to spiritual guides, spirits, celebrating our ancestors, expressing unconditional love, sending gratitude to universe…
We also send love to our planet to help raise vibrations and heal. We are one with earth, when we heal earth we heal ourselves.
I suggest you have a look on the work of Masaru Emoto who studied how water is affected by different words, sounds and images. You can easily find it on the internet.
New people are welcome.
Naomha OM Circle listing*:
Four Elements Healing  (Earth, Water, Air, Fire)
Meet your Totem Animal
Allow Archangels & Ascended Masters healing
Magical Journey with Goddess Isis
Express your Divine Feminine and Divine Masculine Energy
Allow Archangels & Ascended Masters healing
Journey with magic sounds goddess Isis
Reconnection with you Divine Being
Life Purpose and Soul Mission
Inner Child Healing
Divine Feminine and Masculine Energy Balance
Meet you Power Animal Totem
*Non exhaustive list
Coming workshops
Friday 1st_ How to get in connection with your Higher Self and your Spirits Guides
https://www.eventbrite.co.uk/e/how-to-get-in-connection-with-your-higher-self-and-your-spirits-guides-tickets-707504794887?aff=oddtdtcreator
Friday 8th_ Four Elements Healing
https://www.eventbrite.co.uk/e/four-elements-healing-earth-water-air-fire-tickets-707545747377?aff=oddtdtcreator
Friday 22nd_ Meet your Power Animal
https://www.eventbrite.co.uk/e/meet-your-power-animal-totem-tickets-707551414327?aff=oddtdtcreator
Friday 29th _ Sound Healing Bath, Art and WellBeing
https://www.eventbrite.co.uk/e/sound-healing-bath-songs-of-the-soul-tickets-707553009097?aff=oddtdtcreator
What to bring:
-Comfortable clothes
-Open Mind and Open Heart
-Water to drink
New people are welcome. No experience is necessary. Every session is different, depending on what the universe wishes for us to experience.
If you need more information, please contact me:
All enquiries to Maimouna Ly at naomhaom@gmail.com / 07751143584.
You can also visit: Workshops – Naomha Om.
How to participate
For booking, email or text your name, first name, number of people attending and preferred way of contact
Click here to participate
or use Eventbrite link.
Fee: £11, Concession price £7
Stay informed about Naomha Om Circles Workshops 
Useful information
Fees
Please check the fees indicated for every workshop.
Cancel
Participants are restricted number especially when we're doing indoor workshops. Please kindly provide notice if you need to cancel your participation.
Location
Online, Indoors and Outdoors – UK, FRANCE – Please check the location indicated for each workshop.
Disclaimer
Energetic healing practices are spiritual in nature. They do not interfere with any medical treatments a client may be following under a doctor's care. In no way does energetic healing work replace such medical treatments. Please ensure you make the best decision to keep yourself safe and be aware that you are responsible for your wellbeing.