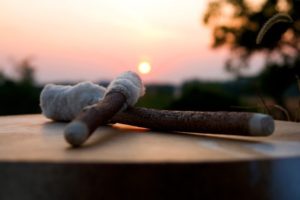 Everything in the universe is vibration, our thoughts are vibrations. We have the power to keep our thoughts in a positive level to raise our vibrations and reach higher dimensions of consciousness and being closer to the Divine Source.  Emotions such as fear, grievance vibrate at a very low frequency, while love, joy, and gratitude vibrate at a much higher level. In Naomha OM Circles we work on keeping our positive vibrations by meditating, creating, singing, dancing, sharing, healing, connecting to the elementals, talking to spiritual guides, spirits, celebrating our ancestors, expressing unconditional love, sending gratitude to universe…
We also send love to our planet to help raise vibrations and heal. We are one with earth, when we heal earth we heal ourselves.
I suggest you have a look on the work of Masaru Emoto who studied how water is affected by different words, sounds and images. You can easily find it on the internet.
New people are welcome.
Coming workshops
How to connect with your intuition and get your own messages – 1 Day Workshop
When: Saturday 31 Jul. 2021 – From 10am to 5pm, London Time
Location: Online Zoom
Open to everyone from the age of 18
Bring: Open Mind and Open Heart
Fees: £40
If you need more information please contact me:
Maimouna LY / UK +44 (0)7751 143 584, FR+33 (0)6 18 99 03 39, naomhaom@gmail.com
How to participate
Please send me an email, with the title of the event, the number of participants and I will answer back with the details concerning the event.
Keep informed about Naomha Om Circles Workshops 
Useful information
Fees
Please check the price indicated for every workshop
Cancel
Participants are restricted number especially when we're doing indoors workshops, please kindly provide notice if you need to cancel your participation.
Location
Online, Indoors and Outdoors – UK, FRANCE – Please check the location indicated for each workshop.