Welcome!
If you are interested in well-being, spiritual healing, holistic therapies, natural healing, spiritual awakening, you've come to the right place.
Come for a magical experience for your Mind, Body, Soul and Spirit!
Human consciousness is growing and more and more people now understand human beings are more than just a physical body. We are divine Spirits  into a physical body, creative beings through whom the soul radiates divine light.
Finding harmony, peace, joy and love is not only a matter of body's caring, but also an awareness of the whole being: The Body, The Soul, The Spirit and I would say also the Mind, allowing us to follow the call of the Divine Spirit we are.
Self-awareness rather than self-illusion is the start of a spiritual healing journey. It's a path of transformation, a journey that connects body, soul, and mind and gives our Divine Spirit the guidance of our life to be fully aligned with our life purpose.
Daily:
Care for your Body: Eat healthy – Exercise – Enjoy time in nature – Get enough sleep…
Care for your Spirit: Create, whatever you like – Write -Draw – Paint – Sing – Dance – Read
Care for your Mind: Meditate – Feel Gratitude – Love – Open your mind…
Care for your Soul: Listen to you inner voice guidance – Trust yourself – Follow your dreams

Please note that, due to covid travel rules, all retreats are suspended for the moment. If you want to know by when retreats will be back again, please subscribe to the newsletter or send an email to naomhaom@gmail.com. 
Book a Therapy or a Service
You could send me a request by clicking the link below and then choose the therapy or the service you want.
Click here to book an appointment
Participate in a Workshop
You could send me your request by clicking on the link below, with the title of the workshop (s) you want to participate in and the number of participants
Click here to participate
Participate in a Spiritual Retreat
You could send me an email by clicking on the link below, with your request and any other questions you may have.
Click here to send an email
If you need more information, please contact me:
Maimouna LY   /  UK:  +44 7751 143 584, FR. +33 6 18 99 03 39 naomhaom@gmail.com
About me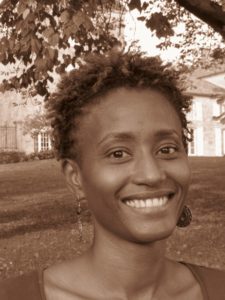 I am a Healer from of healers in my family, a Holistic Therapist, a  Shaman and an Essenian Therapist. I am also Artist and Writer.
I am a woman committed to love, to life and the natural world, the same world we will leave to our children. I thrive one writing, singing, dancing, listening music, and I restore my energy balance in nature, in quiet and peaceful environments.
Want to know more about me:
About me – Naomha Om